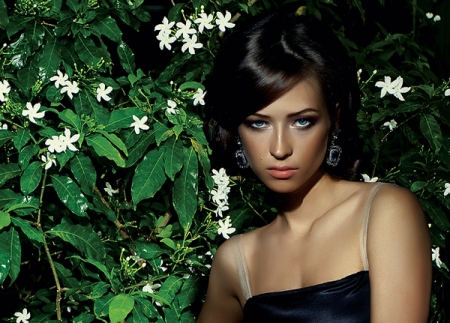 Over 90% of communication is non-verbal. People get much more information from your body language and your tone than from your words. Body language is a powerful tool that can have a significant impact on how we're perceived by others, especially in the realm of attraction. It's no secret that women can be drawn to men who exhibit confidence, charisma, and genuine interest through their nonverbal cues.
Here are 5 simple body language tips that you can use right away:

1. Smile. Smile! SMILE! Most guys are so worried about what to say, how to react etc. so they almost always forget to smile when approaching! Or they come up with a fake smile. Practice smiling in front of a mirror. If you are smiling, your brain adapts automatically and puts you in a better mood. And, when you smile and are friendly, it also puts her in a better mood. A genuine smile can be one of the most attractive qualities a man can possess. When you smile, it shows that you're approachable, friendly, and positive. Make sure your smile reaches your eyes, as this can make it appear more authentic and warm. Remember not to force a smile, as a fake grin can come across as insincere or creepy.
2. Speak louder. Most men are afraid to speak up, because they dont like to be judged by others. Forget about the others as they are too busy thinking about what others (including you) are thinking of them!

3. Speak slower. Confident people don't talk like they are in a hurry. Also, if you slow down your talking, you'll be much easier to understand (especially in loud clubs).
4. Eliminate nervous tics. Look at some videos of yourself do you have some tics that you need to get rid of? Silly hand gestures, stupid grimaces or eye twitches? Write down what you notice and try to eliminate them.
5. Dont hold your drink in front of your chest. Most guys do this and you dont want to be like most guys, dont you? Leave your drink at the bar or keep it low. But dont become Jerry Seinfeld walking around, looking around guy with in first place. Approach people, socialize!
6. Maintain confident posture
A confident posture is an essential foundation for exuding attractiveness. Stand tall with your shoulders back and your chest out. This position not only makes you appear more dominant and self-assured but also helps you feel more confident internally. Avoid slouching or crossing your arms, as these can signal insecurity or disinterest.'
7. Make eye contact
Eye contact is a potent nonverbal cue that can convey interest, trust, and confidence. When engaging with a woman, maintain steady eye contact. This demonstrates that you're actively listening and genuinely interested in what she's saying. However, be careful not to stare, as this can make the other person uncomfortable. Maintain a balance by occasionally looking away or breaking eye contact for a few seconds.
 8. Use open gestures
Open gestures, such as showing your palms or spreading your arms, can signal openness, trustworthiness, and confidence. These gestures can help you appear more inviting and put the other person at ease. When conversing with a woman, avoid closed-off body language like crossed arms or hiding your hands, as this can communicate that you're not fully engaged or trustworthy.
9. Mirror her movements
Mirroring is a subtle technique that can help you establish rapport and create a sense of connection. By subtly mimicking a woman's body language, gestures, or tone of voice, you can create an unconscious bond and make her feel more comfortable around you. Be cautious not to overdo it or make it obvious, as this can come off as creepy or insincere.
10. Respect personal space
While it's essential to be close enough to engage in conversation, it's also crucial to respect a woman's personal space. Pay attention to her body language and adjust your proximity accordingly. If she seems uncomfortable or takes a step back, give her some room. Invading someone's personal space can make them feel uneasy and damage your chances of building a connection.
11. Be mindful of your touch
Appropriate and well-timed touch can help create a deeper connection and build trust. Start with light, casual touches on her arm, hand, or shoulder when the conversation flows naturally or when emphasizing a point. Make sure to observe her reaction and be respectful of her boundaries. If she reciprocates or appears comfortable, you can gradually progress to more intimate touches.
Conclusion
Mastering the art of body language can significantly improve your ability to attract women and form meaningful connections. By incorporating these seven tips into your interactions, you'll be well on your way to becoming a more captivating and irresistible presence. Remember that the key to success is being genuine, respectful, and attentive to the other person's needs and boundaries.