Starting a conversation with a beautiful woman can be tough. In fact, it scares most of the guys, although no one would admit it. But everyone knows the process: You get nervous, get sweaty palms and start stuttering – if you decide to approach her at all.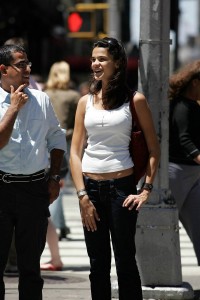 However, there are ways to do it right. Ways that work.
1)Â Â Â  Use an Opinion Opener.
An opener is a question or statement you start a conversation with. Thus, an opinion opener is about asking her opinion on something. For example: "Hi! I'm searching for a birthday present for a friend. She's the same age as you. Do you have an idea? I was thinking about a book…" Or "Hey, do you think wearing too many rings is kind of gay? I want to get some, but I'm not sure…" Let her speak and listen carefully as you can use her answers to keep up the conversation. A good opener will automatically lead to other questions and topics of conversation.
2)Â Â Â  Demonstrate Value.
Impress her with stuff only few people talk about at the beginning of a conversation. For example, if you asked her about the rings and she wears one or some, say that you read in a magazine yesterday that wearing rings on certain fingers says something about one's personality. On the other hand, if she's not wearing any rings, you can tell her that the decision not to wear rings says something about her personality. In doing so you demonstrate a higher value as most of the guys use "interview questions" like: "What is your name?", "Where are you from?", "What kind of work you do?" Read up on palm reading, (favorite) color meaning, finger length meaning or psycho tests. Women love tests where you tell them something about them they didn't know. But practice it at home (with a friend) first.
3)Â Â Â  Â Find Similarities.
This is necessary to build comfort. She has to see herself in you, has to realize that you both have the same feelings. Of course, you need some time to build up comfort, but also a short story like this can be striking: "Hey, you have the same boots like my sister! I was shopping with her and she searched through 10 shoe stores to find them…" Again, let her talk for a while, maybe you will find something you can relate to and build even more comfort.
P.S. Never open with "Excuse me". As a man of high status (at least that's what you want to demonstrate, because women are attracted to status) you don't need to apologize for a simple question or statement. You will find more tips how to start a conversation, how to demonstrate value and build comfort here: