Online Dating is pretty popular these days. By now, everyone seems to be on facebook. It's easy to meet new people on the net, but how about meeting them in real life?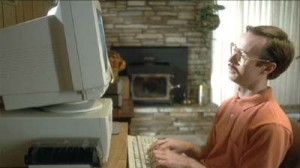 Here'swhat normally happens: you "poke" a beautiful girl online, write her a message like "Hi! I like your…/ your so sweet" aso. and never get a response. And that's what 95 % of the guys do – that's what I thought.
To check my suspicion, I registered an personal with a picture of a hottie and added some rare personal details like "sex and the city" as the favourite serial aso. One weeks later my mailbox was full with 13 friend requests and 21 mails from guys letting "me" know how hot, nice, cute aso. "I"  was.
It was really mean to see what those hot girls have to read again and again – it's the same, stupid, uninspired stuff. The women are'nt answering this stuff…And guess what – you wouldn't either!
So, giving compliments is one of the biggest mistakes you can make in online dating. If the girl is beautiful, never make compliments on her looks. She hears (and reads) it all the time and to her you're just the next guy who wants in her pants.
Instead you can use a "NEG" like "Hey, I like you hair color. Is it real?" You're right, there's a compliment inside, but at the same time she realizes you have doubts about her looks. You can still make a small compliment later in the conversation, but try to find something other than "You have beautiful eyes!"

More on the mistakes you shouldn't make in online dating the next days.
P.S. There is a brand-new (2008) 224-page e-book called "The Online Game" out now. If you thought, you already knew all about online dating, GET READY!