Ok, by now you know that complimenting a girl on her looks is a major mistake – not only in online dating. So what are the other mistakes that you shouldn't avoid chatting with girls on facebook, myspace aso.?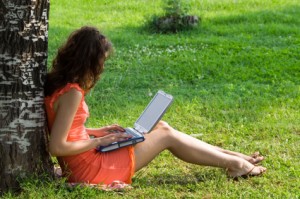 Another big mistake is writing too long messages and chatting too long in general.
The reason is that the girl doesn't know you and isn't sure, whether to spend her precious time on you. She obviously has to take some to read long messages, which are in most cases boring as most guys don't know how to tell an interesting story that demonstrate higher value in a short way. This leads to negative feelings inside her, which means she won't contact you again.
So, instead of writing long messages about you, where you live and what you do – and writing endlessly in general – keep it short and get to the point. Girls like guys who know what they want and value their own time. After about short 10 messages you can say something like this:
"I get pretty busy, so you won't find me online often. Let's continue this on the phone, here's my number. Or, if you're old-fashioned, just mail me yours."
Here is what Neil Strauss has to say on online dating.
P.S. If you're unsure, how to improve your profile to get girls contacting you – take a look at the brand-new (2008) 224-page e-book called "The Online Game".