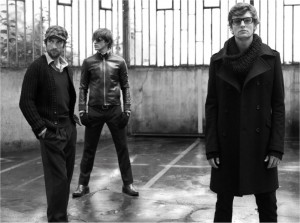 As we all know, the first impression has a lot to do with the way you dress. To quote Michael Jordan's father, "If you dress like a bum, then they're gonna treat you like a bum. If you dress like a hoodlum, they're going to treat you like a hoodlum…" (Michael Jordan, Driven from Within).
You get the idea – if you're dressed like a computer programmer, they… You know the rest. So what you need to do is to improve the way you dress.
Of course, looks are NOT the most important part of attracting girls, but they are important. The way your are dressed will have an effect on the way people assess you – even unconscious. People judge by the looks and you have only seconds to demonstrate that you are a man of style. Don't mess it up with boring sweaters and dirty sneakers.
You don't have to dress like a gigolo either. If you look like a software engineer, try to loosen your clothes a little bit – add some color to it. Get rid of plaid and Hawaiian shirts. Look for some interesting necklaces, rings or wristlets (but try to avoid knickknack).
Why? Because every woman wants to know what they stand for. Such accessories make your interesting – they even allow a woman to contact you. And women are very curious as for glitter.
Good shoes are important as women pay attention to what kind of shoes guys wear. Again, try to avoid sneakers – for example you can buy a pair of nice, black italian shoes. They are worth it.
You need a nice jacket, not a multi-color-baseball-jacket. It doesn't have to be a leather jacket – although it will draw a much more attention. A simple, classy coat can make a hell of impression. It's not about buying the most expensive stuff and looking or looking like a fashion junkie. It's about adding class to the way you dress. Shops like Zara or even H&M will do it completely.